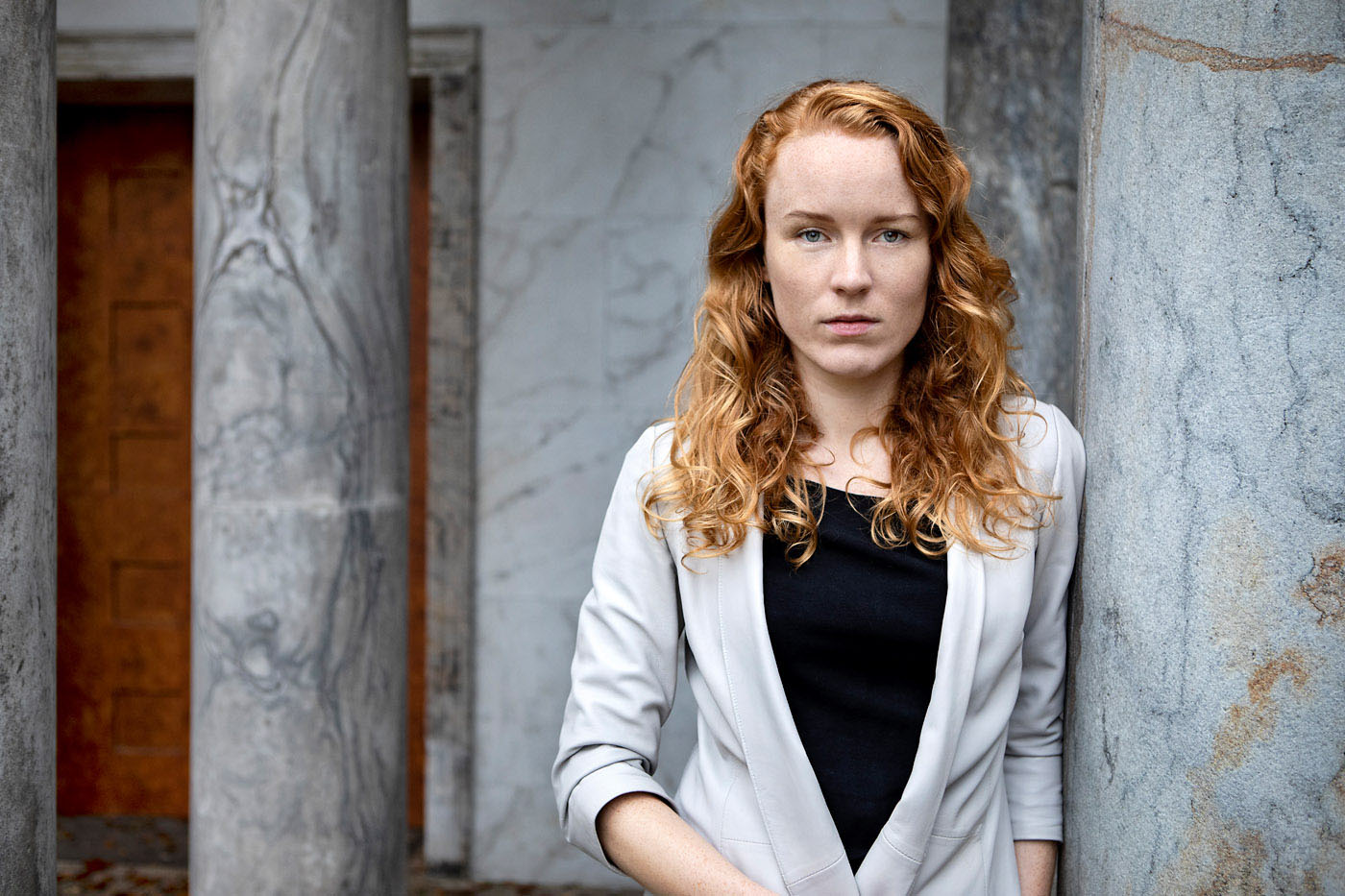 Veronika Krøll Voetmann is a multifaceted musician and composer.
Initially playing the classical cello, she soon began to experiment with the cello's versatility across other genres, such as Nordic folk, jazz and improvisation, rock and metal. She has performed and composed in the context of theatre plays and physical performances, art music concerts and exhibitions. She has also toured internationally with a number of ensembles – most recently in Seoul, where she performed her own music in a cross-cultural collaboration between Korean and Danish artists.
Having being first and foremost a performer herself, her openness and curiosity towards music and music making and her involvement in many different musical genres is clear in her compositional approach, personality and sound.
For example, her often scarce use of vibrato and liberal use of open chord progressions point toward a deep-seated inspiration from Nordic folk music traditions. Her music is melodic with a strong rhythmic foundation, which is even groovy, at times. Her inspiration from classical music is clear in the fact that she generally composes with a narrative, or with the intention of capturing and creating a specific atmosphere.
Being a string player herself, she has taken particular focus on the string quartet format, and has just had her third string quartet premiered at the Palladium in Malmö.
She is currently studying with the internationally renowned Swedish composer Rolf Martinsson at the Academy of Music in Malmö.
EDUCATION
2020 – 2023     Malmö Academy of Music
Bachelor in Composition

2018 – 2020     Malmö Academy of Music
Bachelor in Music Performance – Individuel Studies
2016 – 2018     Skurups folkhögskola – Skurup
Nordic Folk Music Performance
2015     Vårdinge by folkhögskola – Stockholm
Irish Folk Music Performance

2011 – 2013     MGK – Guldborgsund
Classical Music Performance – Foundation Course

2009 – 2012     Copenhagen University
Bachelor in Musicology and Music and Arts Management
2009     Rhythmic Center Copenhagen
Sound and studio technician – intensive course

MUSICAL AND INTERDISCIPLINARY PROJECTS
2021         Faaborg & Copenhagen – Denmark, Riga – Latvia and Akureyri – Iceland
Musician, performer and music creator in the play "TRAKTOR". Created by Tine Kortermand.

2019         Lund Cathedral – Lund, Sweden
Musician in the church play "Någon som du". Directed by Lotten Ross, Composer/Bandleader: Jens Ulvsand. 
2019         Uijeongbu Music Theatre Festival and CPH Stage – Seoul (Korea) and Copenhagen
Musician and composer in the performance "Moving Stories". An International collaboration between Danish and Korean performers, co-produced by KoDe8071. Directed by Ju-Yeon Ryu. 
2015 – 2016    Aveny T og Aarhus Theatre co-produktion
Musician, singer and performer in the musical theatre play "Dig og mig for altid". Directed by Kenneth Kreutzman, Bandleader: Joakim Pedersen.
2011 – now     Studio Musician on a wide variety of EPs and albums, f.ex.:
Katinka "Vokseværk" (2018, Playground)
The Late Great Fitzcarraldos "You" (2017, Golden Records)
Disarray Son:  "Disarray Son" (2015, Gateway)
Santiago: "No More Songs About the Moon" (2014, A:larm Music)
Temple: "Fluorescence" (2014, Resonance)
L.O.C.: "Pretige, Paranoia, Persona Vol. I" (2012, SGMD)
2020 Jubelfonden (read motivation: https://jubelfonden.se/veronika-voetmann/)
2020 Kungliga Musikaliska Akademien
2018 SKAPs Nyskaparstipendie (read motivation: https://www.skap.se/2019/02/06/nyskaparstipendiet-2018-veronika-kroll-voetmann/)