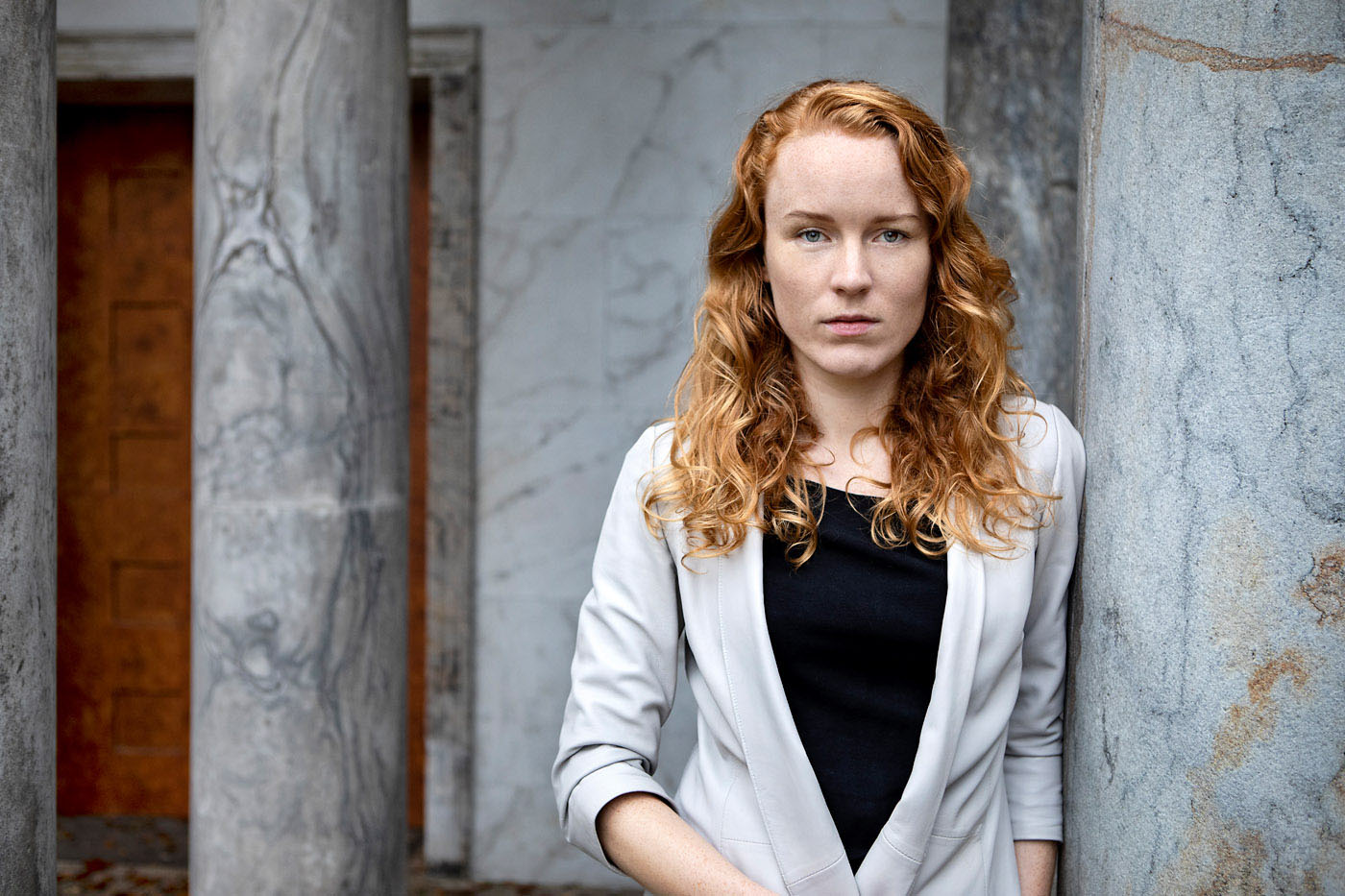 Veronika Krøll Voetmann is a multifaceted musician and composer.
Initially playing the classical cello, she soon began to experiment with the cello's versatility across other genres, such as Nordic folk, improvisation, rock and metal. She has performed and composed in the context of theatre plays and performances, art music concerts and exhibitions. She has also toured nationally and internationally with her own ensembles Stringflip and Cloud Atlas trio, and with various artist such as Myrkur, Marc Facchini and Ættir.
Having being first and foremost a performer herself, her openness and curiosity towards music and music making and her involvement in many different musical genres is clear in her compositional approach, personality and sound.
Scarce use of vibrato, emphasis on harmonics and spherical textures and a liberal use of open chord progressions point toward a deep-seated inspiration from Nordic folk music traditions. Her music often has traits of melodic lines and a strong emphasis on organic development. She generally composes with a narrative or with the intention of capturing and creating a specific atmosphere.
She has had her works premiered by Helsingborg Symphony Orchestra, Jönköping Sinfonietta, Vulva Voce, Vindla String Quartet, members of Gageego! ensemble and Ensemble Mare Balticum, and other smaller ensembles and soloists e.g. cellist Eric-Maria Couturier (from Ensemble Intercontemporain) and Coloratura Soprano Nina Clausen. In 2023 she will have her orchestra piece "Frostbitten" performed at the ISCM festival taking place in Johannesburg and Cape Town.
She is currently studying with the internationally renowned Danish composer Bent Sørensen and Jeppe Just Christensen at the Royal Danish Academy of Music and has formerly studied with Swedish composer Rolf Martinsson at the Academy of Music in Malmö, and with Danish composer Signe Lykke.
EDUCATION
2023 – 2025     The Royal Danish Academy of Music
Master in Composition
2020 – 2023     Malmö Academy of Music
Bachelor in Composition

2018 – 2020     Malmö Academy of Music
Bachelor in Music Performance – Individual Studies
2016 – 2018     Skurups folkhögskola – Skurup
Nordic Folk Music Performance
2015     Vårdinge by folkhögskola – Stockholm
Irish Folk Music Performance

2011 – 2013     MGK – Guldborgsund
Classical Music Performance – Foundation Course

2009 – 2012     Copenhagen University
Bachelor in Musicology and Music and Arts Management
2009     Rhythmic Center Copenhagen
Sound and studio technician – intensive course

MUSICAL AND INTERDISCIPLINARY PROJECTS
2023    "HEX" – The Royal Theatre – Skuespilhuset, Copenhagen
Musician and performer in the play "HEX". Text/Idea: Olga Ravn. Directed by Liv Helm, Composer/Bandleader: Jeanett Albeck, Scenographer: Freya Sif Hestnes.
2022          Touring musician with Myrkur, Stringflip & Cloud Atlas in Denmark, Sweden, Norway, Germany, Estonia, France and Spain.
2021         "Guldtraktor" – Faaborg, Odense & Copenhagen, Denmark and Malmö, Sweden
Musician, performer and music creator in the play "Guldtraktor". Created by Tine Kortermand.

2020 –       "Frederiksdal Folk Festival" – Sorgenfri, Denmark
Co-creator, producer and booker of the festival established in 2020 in collaboration with Sigismund Ahlefeldt-Laurvig and Rune Øster Mortensen. https://www.frederiksdalslot.dk/folk-festival
2019         "Någon som du" – Lund Cathedral, Lund, Sweden
Musician in the church play "Någon som du". Directed by Lotten Ross, Composer/Bandleader: Jens Ulvsand. 
2019         "Moving Stories" – Uijeongbu Music Theatre Festival, Seoul, Korea & CPH Stage, Copenhagen, Denmark
Musician and composer in the performance "Moving Stories". An International collaboration between Danish and Korean performers, co-produced by KoDe8071. Directed by Ju-Yeon Ryu. 
2015 – 2016    "Dig og mig for Altid" – Aveny T & Aarhus Theatre co-produktion
Musician, singer and performer in the musical theatre play "Dig og mig for altid". Directed by Kenneth Kreutzman, Bandleader: Joakim Pedersen.
2011 – now     Studio Musician on a wide variety of EPs and albums, f.ex.:
Katinka "Vokseværk" (2018, Playground)
The Late Great Fitzcarraldos "You" (2017, Golden Records)
Disarray Son:  "Disarray Son" (2015, Gateway)
Santiago: "No More Songs About the Moon" (2014, A:larm Music)
Temple: "Fluorescence" (2014, Resonance)
L.O.C.: "Pretige, Paranoia, Persona Vol. I" (2012, SGMD)
2023 Veronica Öhmans Stipendiestiftelse – Scholarship
2023 Kungliga Musikaliska Akademien – Scholarship
2022 Koda Kultur/Dansk Komponist Forening – Work grant
2022 Koda Kultur/Autor – Grant for recording purposes (Cloud Atlas trio)
2020 Jubelfonden – Scholarship (read motivation: https://jubelfonden.se/veronika-voetmann/)
2020 Kungliga Musikaliska Akademien – Scholarship
2019 Koda Kultur/Djbfa – Grant for recording purposes (Stringflip)
2018 SKAPs Nyskaparstipendie – Scholarship (read motivation: https://www.skap.se/2019/02/06/nyskaparstipendiet-2018-veronika-kroll-voetmann/)